Paphos
Attractions
Paphos District is the name of the district of the western end of the island of Cyprus which contains Coral Bay, it is also the name of the city of Paphos or Papos which is the capital of the district. One of 6 districts of Cyprus it is one of the most important parts of the island and contains many recreational and historic attractions.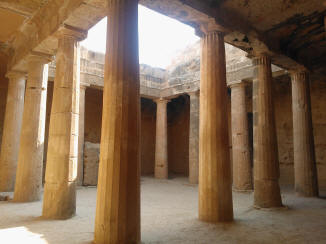 Tombs of the Kings - Despite the name no kings are buried at this historical site (pictured) which still holds impressive remains of burial chambers. Cautious that this is an extremely hot environment with limited facilities, be sure to visit in the early day and be prepared with drinking water. The tombs are within the Archaeological Park which also houses the famed Paphos Mosaics which are so often reproduced on souvenirs of the area.
Ayios Neophytos Monastery - A 12 century monastery ingeniously carved into a cliff wall this place of worship and meditation is open to all visitors. There is a museum with a token 1 euro entrance fee that allows the visitor to learn about the Monastery and it's history. Set in beautiful gardens it is a wonderful place to visit.
Orites Wind Farm - The largest green wind power project in the area, and the first on Cyprus, this power station majestically turns and is visible from the surrounding hills. Providing almost 10% of the power requirements of Cyprus it shows how the country has moved rapidly to take it's place with world leaders in the green carbon neutral power.
Lara Bay Turtle Conservation Station, Paphos - Located on one of the other of the best beaches of Cyprus this station is not open to the public.
St. Paul's Pillar - Part of the historic Ayia Kyriaki Chrysopolitissa 13th century church this houses the stone pillar to which Saint Paul was tied according to tradition.
Closed attractions
Museum of Mycenean settlement in Cyprus at Maa Paleokastro - Currently closed for renovation