How to get to
Coral Bay, Cyprus
From the International Airport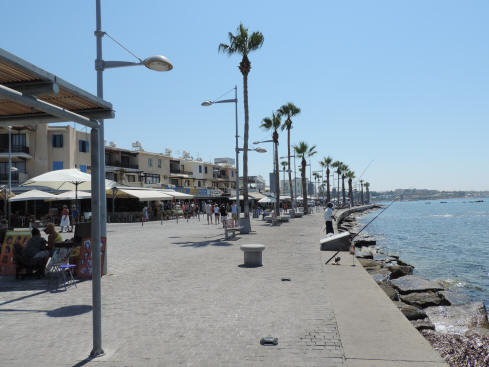 Taxis are available from the Paphos Aiport and take about 45 minutes to get to Coral Bay. You can hire a car and drive yourself, the road is simple and well signposted though a GPS will of course make it easier. Driving in Cyprus is on the left as in the UK so no problem for British people though perhaps confusing if you are travelling from elsewhere in the world.
Although taxis are of course the most convenient and fastest route from the airport to Coral Bay there are also public busses available which are airconditioned and of course much cheaper.
To go from the Paphos Airport first take bus Route 612 which leaves the airport regularly and goes to the main town of Paphos. This is about half an hour of riding on the bus.
At the main bus stop in Paphos you can change to the Route 615 bus which is a similar bus that goes right to the Coral Bay bus stop in about 45 minutes.
But why not stop in Paphos for a while? The main bus terminal is on the harbour front and has great views over the bay to the Castle of Paphos as well.