other
beaches
While Coral Bay is the best beach on Cyprus of course there are other options as well which may be interesting for a day out.
Municipal Beach of Paphos - The official beach at Pahos town is not just close by but is one of the highlights of the beaches on the island. A EU Blue Flag beach so it is renowned for its cleanliness.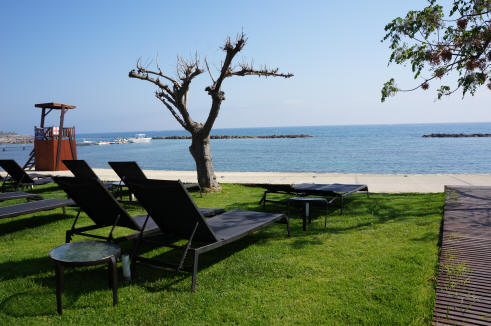 Fig Tree Bay, Protaras - In the Famagusta area this very popular small beach has the usual facilities, plus exceptionally clean waters. Being not to far from not to far from Aya Napa both can be visited in a day.
Lara Beach, Lara Bay - The location of the Turtle Conservation Station this is also a public beach though with limited facilities. Perfect for a picnic and to explore the undisturbed nature environment of Cyprus.
Konnos Bay, Cape Greco - A good place to stay as well as a nice beach this is a well developed area with plenty of facilities, yet still has the crystal clean water for which Cyprus is famed.